1-The Teaching
"The Person Behind the Voice"
School of Singing
as Innovated by Gil Magno
This site is divided into two sections. The first, is about actual singing. The second section, beginning with Page 6, is about the Personal Freedom and Character Development of the person behind the voice. In 12 weeks you will become a professional pop singer. In 16 weeks, with the Path of Hidden Knowledge, you will become who you truly are minus all the lies of the world, and that is beautiful.

The School
MAGNO SELF AND VOCAL DYNAMICS is the general name of the site. The "PERSON BEHIND THE VOICE" School of Voice Instruction, is the teaching method developed by Gil Magno after many years of working with thousands of students in New England, California, and the South. It is quick and to the point and leaves out, as much as possible, superficial "modern bric-a-brac". It concentrates on THE PERSON BEHIND THE VOICE. It accentuates EXPERIENCE rather than just intellectual understanding. By practicing properly, students will find themselves singing with their own NATURAL VOICE, free to express themselves to audiences and individuals, and in general, much more confident in life. Learning to sing well is relatively easy -- if one can carry a tune to begin with -- it doesn't even compare with the study of concert piano or other instrument. The difficulty in becoming a successful singer lies in the CHARACTER and PHILOSOPHY of the singer. SEVENTY-FIVE per cent of all success has to do with how the person is. In this system we give lots of attention to Personal Magnetism and Character development.
The System

1. The true teacher does not "teach," as such, but demonstrates the techniques and evokes in the student the desire to FEEL and to discover what s/he already knows and feels but isn't aware that s/he does.

2. True teaching lies in the methodical and gradient presentation of the data to be APPLIED, with an eye on the physical, psychological and spiritual make-up of the individual.

3. A difficulty experienced by a student, IS NOT the difficulty, but something that was not comprehended or mastered earlier.

4. Success in the arts or in life is assured when one is honest as to who s/he truly is -- that is, minus all the lies pushed on him/her since childhood.
The Training
The human voice in singing or speaking is the extension of the person Him/Herself, as a spiritual and physical being. The training is basically geared at freeing that voice through NATURAL techniques that are simply the vehicle through which the person expresses him/herself in song and general communication. A well-developed singing voice that is not backed by a NATURAL and FREED PERSONALITY full of feeling, will never succeed in front of audiences. Whether or not a student intends to be a professional singer, the fact remains that learning to sing will exteriorize his/her personality and will make him/her more dynamic in life, with great benefits to his/her health. The training is made up of the following 5 Courses:
(Update: Mr. Magno is now accepting students on Skype - that wonderful, free, on-line program, on all the courses below:
COURSE #1 - BEGINNING SINGER:
You learn all the fundamentals of singing: posture; sound production; vibrato; range expansion; breathing; voice classification; reverberation chambers; and two songs used for fundamental interpretation.

This course is now available on 3 videos and also on 2 DVD's. You can study with Gil without leaving your home. For more information and your order please go to: Vocal Course #1
Now available on DVD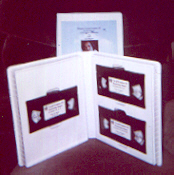 * * *
COURSE #2 - SINGER:

You become a real singer. All the above is expanded upon plus solfege, (sight-singing); power; tone quality; intention; projection; elimination of stage fright; self-expression and stage presence. For the last three, many ingenious drills are used plus the miraculous Callahan Technique discovered by Dr. Roger Callahan and developed by Gary Craig. Mr. Magno learned the technique from the great psychotherapist, Dr. Nathaniel Branden.
Course #2 is available on 10 CDs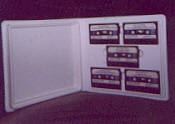 COURSE #3 - PROFESSIONAL QUALITY SINGER:
Everything having to do with professionalism: preparation of 30 songs for professional work; goal setting and a purpose in life process.

SELF TRANSFORMATION
COURSES 1 THROUGH 12 ON THE PATH OF HIDDEN KNOWLEDGE
Many advanced and talented students don't seem to get ahead in life as well as they should. On close annalysis we discover that psychological hang-ups and difficulties exist that act as stops. In this case the student signs up for these Courses, on the Path of Hidden Knowledge, (Pages 6, 7, 7A, 7B, and 7C), which, in 99% of the time, produce miraculous results. Mr Magno uses the miraculous EFT (Emotional Freedom Techniques), along with Sentence Completion from the programs of Dr. Nathaniel Branden, and sometimes Regression. All your life gets a chance to be looked at without stress and at the end one feels squeeky clean and free. Anyone can take these courses for great improvement. People with phobias, stage fright, and other difficulties, will emerge free after Course 1.
There are 12 Courses in 4 Levels of Attainment. (More information on Page 7 series). This course provides for a complete transformation of a student's life. We use EFT, (Emotional Freedom Techniques); a Complete Life Review; Regression, and Sentence Completion, to eliminate all areas of trauma, stress or negativity. Students master the art of being themselves in public, on stage, in business and in groups. Though the voice is used as a tool in this course, it is not about singing. It is about BEING. It uses Mr. Magno's books, Developing Confidence and Personal Magnetism, The Secret and, The Path of Hidden Knowledge. as the textbooks. Excellent for professional singers, business people, sales people, public speakers, teachers, actors and people who simply want to be more assertive. A few of the techniques in this course are introduced as early as Course 1 in singing, beginning with Lesson 3, to eliminate blocks to learning.
Most of these courses are based on, Developing Confidence and Personal Magnetism, by Gil Magno, a 285 page, 8 1/2 by 11 book. Please see Transformation for more details and your order.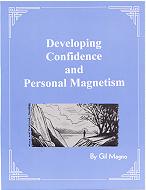 * * *
Some of the Courses:
Course 9 - Living Life's Secrets
The Secret, by Gil Magno is the textbook.... no, no, not that one. His was written in 1999. If you're in a hurry to experience a quick transformation and build an incredible Will Power, Intention and Magnetism, study this course. Along with the mental and intellectual meditation, you will be delighted to learn many secret experiments that will prove to you the power you have; and drills that will turn you into a Power House. That's a promise. It's a collection of 561 concepts calculated to blow most lies from your mind Go to: www.GMagno.com/custom2.html The discussions in this Course are the most advanced you ever had.
*
Course 12 - In Tune with Self through Spiritual Science
Mr. Magno says: "I can tell you with conviction that you will not find anything even close to this on this planet. After this Course, you will understand why the world is the way it is; why there are wars; and, for the first time in your life you will have peace and well-being. Nothing much will disturb you." The textbook is, The Path of Hidden Knowledge by Gil Magno. See The Path

* * *

The Sessions

All sessions are private and of one hour duration. All vocal classes are taped. You practice at home, daily for 5 days, the contents of each class on the tape, which will be aproximately 20 to 35 minutes. Do not practice at home on the day of the class and rest one more day per week. Absolutely do not practice while driving. Mr Magno does not accept students who take recreational drugs, even occasionally. He maintains the right to refuse to accept anyone for instruction, as well as to dismiss anyone for non-production. You will have a Course Program Manual of all techniques to be done.

The Sessions for Transformation are given on Skype or in person.

Students must be well rested and fed for all classes. Graduates of each course are awarded a signed certificate.

The Talks

Mr. Magno also gives talks on his Transformation philosophy.They are not "lectures." The audience participates.

The pith of these talks is now available on a DVD or video titled, The Philosophy of Gil Magno. To order please go to the Products Page.

"...I just finished watching your video, The Philosophy of the True Artist. I loved it. I found it very, very beautiful and honest. My favorite part is when you compare humans with nature, in that nature continually creates and as humans immitate this creativity, magical things happen in terms of personal power..."
Isabel Betancourt - Director of Learning Delights, South Florida.
The Classical Guitar Course
Mr. Magno accepts a few guitar students only if they are seriously interested in the classical school of playing with the fingers.

The Instructor
****************************************************
Born on Madeira Island, he came to the US as a child. He began music in Jr. High School and won many honors in High School. Graduated from the Boston Conservatory of Music with a BA Degree in Music Education.
As a bassoonist, he performed extensively with many symphony orchestras in New England and the South. Studied voice with Grace Hunter, Mario Farrar, a few other teachers, and briefly at L.A. City College.
He studied Classical Guitar with Sophocles Papas in Washington DC. Also attended a master class in conducting with the renown French conductor, Pierre Monteaux, and studied conducting with Maestro Atilio Poto of Boston.
He played with the Birmingham (AL) Symphony for three years and the RI Philharmonic for four years. Also taught High School in Birmingham and his band won many honors including first place in the State two years in a row. Formed the Birmingham Society of Classical Guitar and performed extensively as a singer/guitarist. Was on TV many times.
In MA he opened his own Magnoart Studio and performed as song stylist for many years here. Formed the Boston Guitar Circle Inc. and the Portuguese/Spanish Folk Song Society. Also founded the Magnoart Guitar Symphonette - 13 classical guitars, cello and bass.
He realized that the voice - the human instrument - is very different from other instruments in that, once the technique is mastered, success depends on the character of the singer. So he uses self-improvement methods to develop "the person behind the voice," which is what he calls his school of teaching. Some of his students are now performing all over the country and/or have positions teaching in recognized schools. Two of his guitar students were accepted in master classes with Alexander Lagoya of France and Oscar Ghiglia of Italy. Two of his famous voice students are the well-known Fanny Lu and Ed Hale. All his serious students claim, without fail, a great rise in self-esteem and ability to confront life. He has been teaching for 50 years.
Mr. Magno is also a published poet, author, songwriter, and a member of ASCAP, (American Society of Composers and Publishers). He has recorded two CDs titled, A Tapestry of Love, of his original songs, and, To You My Imaginary Friend - The Poetry of Gil Magno. His publications are the books: Developing Confidence and Personal Magnetism, which he uses as a textbook for his courses; The Secret; How to Attract Your Love-Life-Partner; revision and expansion of the works on magnetism by Webster Edgerly; his autobiography, Transcending Their Lies - An Artist's Struggle to Free Himself from the Lies of Civilization; The Path of Hidden Knowledge - Create You Own New World; and his latest book, Transformation Unveiled, which is dedicated to humanity and can be gotten FREE OF CHARGE.
Instruction material on DVD/CD/video includes the best seller, Magno Vocal Course #1; Magno Vocal Course #2 - 10 CDs. The Philosophy of the True Artist - DVD. The Story of My Transformation and How You Too Can Transform - 2 CDs.
He is a member of the Miami Music Teachers Association and Music Teachers National Association, and has been listed in Who's Who for the past 20 years.
"I am sad to announce that Little Boy, my constant feline companion, whose picture is on the Home Page, died on 11/5/03. He was 12 years old. But I am happy that Little Girl, below, has taken over his position as Press Agent."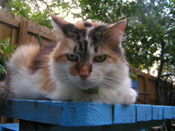 Little Girl
"Again, I'm sad to announce that Little Girl was killed by two dogs last Thursday, 7/27/06. Those dogs were on a leash but their owner was drunk."
"Branquinho - My new adorable companion
stays in the house with me and only goes
out when I'm gardening."
"Again I'm sad to announce that Branquinho above died in 2012
from pulmonary failure."
The Philosophy
Mr. Magno says, "I am totally dedicated to my work, so I do my best to help you become an excellent and successful singer and free Being. I am a 'Cosmobjectivist' dedicated to honesty, reality and progress. I have no time for 'beady-eyed,' 'goody-goody,' 'caca-poo' illusions from never-never lands. I believe that Happiness is our moral right, and we achieve it when we search for our cosmic beginnings. It is the purpose of our life. There is also another purpose that borders on the occult; I will introduce you to it when the time comes. It's all on the Path of Hidden Knowledge. To achieve them requires mastery of ourselves in both the physical and spiritual worlds."
"I am opinionated, judgmental and rationally selfish. That's why I respect you for being you! I welcome questions about my philosophical writings and my uncommon method of teaching; but not arguments; I have no need for them. Just as I have faith in tomorrow's rising of the sun, so have I faith in YOUR unlimited conscious power to achieve anything you desire."
The Most Inspiring Success Stories
1/6/05 - "The lessons on the 2nd DVD are nothing less than amazing! I do hope you come out with more advanced lessons on DVD! I began taking voice lessons a year ago when I realized that I wouldn't get very far with my completely untrained voice. I quickly found out that I had a pretty good sense of pitch and rhythm as well as a basically pleasant voice, but I had a very hard time trying to learn how to breath, use my diaphragm and control my entire vocal apparatus. I am now with my third teacher and things are starting to fall nicely into place, mainly because of the absolutely systematic and logical approach you have developed. My teachers have all had lots of great things to show and teach me, but you have managed with your video to make those disjointed ideas fit into a pattern. The thing I am most impressed with is your emphasis on the development of and expression of the personality. My teachers have all said something like this, but somehow your presentation gets the message across. I find myself going back subconsciously to practice your exercises during free moments in my day. You have become my constant companion! I have found that I really love to sing, I think partly because I have always been a rather shy person and singing is a way to let the soul express itself, thereby allowing my whole persona to open up and express itself. The positive effects on my relations with other people in all domains are absolutely dramatic. Of course, all of these good things began some time before I saw your first lesson, but you have made everything crystallize for me. I can't thank you enough, Gil. You are an incredibly inspiring gentleman and I am very glad that our paths have crossed, albeit only in virtual space! Sincerely yours, Dr. Don Kiraly, University of Mainz, Germany
1/16/07
"No words to express what I've learned from Gil. It's not just voice, it's a matter of love; and when I say love, it means love incorporated in all you do. It's doing what you love and enjoying it. It's to learn to trust yourself and as you love yourself, be yourself no matter what. Thank you Gil… my voice is much better with every class but so is my self-esteem and my desire to keep on because everything is possible – no obstacles. Every class is a learning experience but also a therapy. Love you!" Fanny Lu, Performing and Recording Artist, #1 In Billboard's Tropical List
"Hi Gil: It's good to see you have a course like this available. I would like to thank you again for the incredible experience I had in my voice lessons with you. I really went with the intention of "finding my voice", not just my singing voice, but "My Voice". That, I did. I am in California on the ocean again and very happily creating the training company I have been dreaming of for 5 years. It is MarviEvents and we will be presenting seminars and Certifications in Hypnosis and NLP. I know that one of the most important steps I needed to take towards making this a reality was studying with you. To be honest with you I hardly ever sing, however I do speak and the way that I speak guides people into altered states of consciousness. I am a hypnotist and NLP Trainer. My voice and my physiology are all that I have to do my work. I have noticed since working with you that I have more self-confidence in front of groups and my speaking voice has a quality that it did not possess before. I'll be recording some guided visualizations and training CD's soon and I know they will sound great because of the training I had with you. Richard was so amazed when he heard me sing during our lessons, because he had heard me before you started working with me. The contrast was amazing. Thank you Gil. I really didn't like living in Florida and some days I think that I needed to be there just to meet you. Best of Luck with all your projects. Much Love, Mary Ligon - Self Improvement Seminar Leader
11/9/04 - I just finished the Life-Review Course with Gil Magno. Even though I have walked a long way in therapy, with the Callahan Techniques, etc., I have seen an integration in my body that is the presence of my soul in this life on earth, and the awareness of the freedom to be here totally in the present without the main illusions that have pursued me in my life until now, reestablishing my connection and commitment with myself and love for my self. Gabby Duran - Dancer - Coral Gables, FL - Began Course on 1/8/04 & ended on 11/9/04
"......Working and studying with Gil Magno is working/connecting with an aligned soul -- no pretense, no compromise. He is connected to all highest ideals of man and this comes across in his teaching so you walk away from a lesson with him feeling as though you have come in contact with the highest and best in you. It is pure inspiration that lasts for many days after the lesson ends. Ed Hale - Lead singer with Transcendence Modern Rock Band
"It was like a world of possibility had opened up for me in just two or three lessons. Your lessons in honesty and purpose in life are moving and inspiring. You are generous with your time and knowledge. You are generous with encouragement. You helped me to feel better about myself as a singer, songwriter and as a human being. Your clarity, vision and moral support, were very instrumental in helping me to finish a recording project that meant the world to me ... my own CD. Gee Gil! What do I say? The success is you! I can only thank you for all you've given me. Michele Paris - Recording Artist - Songwriter - Ft.Lauderdale, FL
"Being an entertainer is more about being in touch with yourself than anything else. You really have to know who you are before you can share yourself with the audience, which is what entertaining really is - Gil really has a firm grasp on this concept and the ability to teach it to others." Michael McPherson - World reknown magician.
Interview
How long have you been teaching?
Over 40 years.
How are voice lessons beneficial for children?
What is true for children is true for adults. According to my innovative school of teaching, "the person behind the voice," besides the pleasant experience of singing songs, the children will attain better connections between left and right brains. They will also experience self-esteem, for the strengthening of their vocal cords will allow them to fearlessly express themselves. These are just a few of the benefits.
What is the best age for a child to start?
Singing songs should be encouraged at home from a baby to 12 years. For real study to gain technical skills, 12 years is fine.
What are the typical qualities of kids and adults who most excel?
For children, those who have been brought up with their self-determinism intact. For adults, those who never had their heads filled with lies.
What should parents look for in a teacher or in a program before signing up their child?
Bad teachers make something out of nothing. Good teachers make nothing out of something. In other words, good teachers are uncomplicated.
What are the costs involved?
I create a professional singer in 28 weeks, if he/she is not tone-deaf. The tuition is per hour private class. All classes are taped.
What style do you teach? Why?
Though most of my experience is in classical music, including conducting, I teach mostly pop singing. Why? It's easier to sell your product as a pop singer than a classical one; I don't believe in starving.
What usually causes a child or adult to struggle or to drop out?
For children: a) bad teaching, b) natural temperament for something else, c) negatively conditioned parents. For adults: Inability to focus the attention and/or running around without destination.
Can you add any other comments?
The human voice is the soul crystalized. I use it as a tool in developing confidence and personal magnetism in my book, Developing Confidence and Personal Magnetism.
Please continue to Page 2, The Students I
Find Mr. Magno on Facebook, You Tube and MySpace and be his friend!