5-The Career II
For private classes, seminars and speaking engagements,
please call (305) 447-8660 or Email

Continuation of the Career Photos. From here on the photos are not in chronological order but are added as they are found.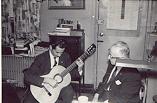 Gil taking a classical guitar class with the renown teacher, Sophocles Papas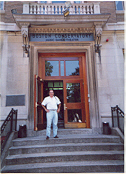 Gil in front of his Alma Mater, the Boston Conservatory of music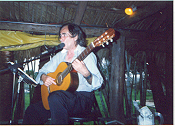 Gil performing in Key Byscaine. Name of club, unknown. Gil has entertained in hundreds of clubs, restaurants, associations, concerts and banquets, that it is hard to remember all the names.





Jim Leonard, creator of Vivation, a self-searching method through the breath. He is also the author of, Your Fondest Dream - How to master the Power of Creativity. "Dear Gil, you do a tremendous amount to support people's creativity. May all your fondest dreams come true..."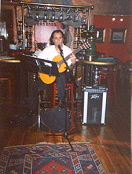 Gil performing at the Courtyard Tavern in Coral Gables, FL.
Gil performed extensively in Boston and Cambridge MA, and some in Provincetown MA, Cape Cod MA, Birmingham AL, Los Angeles, Portland ME, Providence RI, Pawtucket RI, New Bedford MA, Otowa, Canada, Palisades Park NY, Miami and Ft. Lauderdale FL.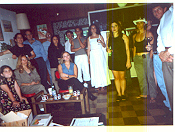 Gil With his students at his birthday party in 1999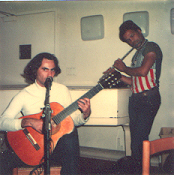 Gil performing at The Brattle Place, Harvard Sq., Cambridge, MA.
The diswasher used to sit in on flute. In Boston and Cambridge Mr. Magno entertained many well known people, some of which were: Cardinal Medeiros, Governor Sargeant, Governor Patterson, John Sears, the owners of Filene's Basement, Phillipo Berrio - the olive oil king, the Cabot Lodges, Sabicas and many others
.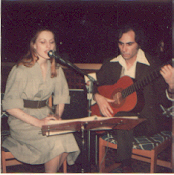 Gil performing at the Aegean Fare Restaurant, Boston, MA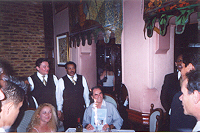 Gil Magno was serenaded on 3/16/01 by The Forge Restaurant choir, which he coached, to celebrate two events: The publication of his book, Developing Confidence and Personal Magnetism, and his new song titled, Congratulations, which the choir sang for him. Since an appropriate "congratulations" song didn't exist, he composed one and dedicated it to the 17 servers that comprise the choir, who in turn sang it for him on the occasion of the publication of his book. This simple but powerful song will become the official congratulations song of the US.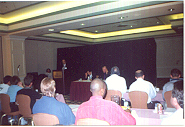 Gil Magno lecturing at the Neo-Tech Convention in the Monte
Carlo Hotel in Las Vegas.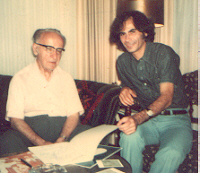 Gil with his beloved classical guitar teacher, Sophocles Papas, at an advanced age.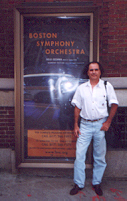 Many an afternoon Gil waited by the Boston Symphony Hall Stage door to get a glimpse of the greats, like
Charles Munch, Andres Segovia, Arthur Rubinstein, and many others...
MIAMI'S VOCAL GURU by Tania Velasquez

Gil Magno is quite possibly the last of the romantics and the first of the objectivists in the arts. I met him outside of Books and Books on Lincoln Road in Miami Beach, enjoying a cup of coffee and reading, The Art of Living Consciously, by Nathaniel Branden. I had mistaken him as being either a college professor or the famed Brazilian race car driver, Emerson Fittipaldi. He looked up at me and said, "hello," with a contagious smile and a magnetic voice. As we began talking, I learned that he was born on the Island of Madeira, Portugal, where he was influenced in romantic music as a child. He is a song stylist/guitarist and well known vocal coach, with students from coast to coast.
.......I was invited to a show he was performing later that evening and couldn't help be enthralled by the way he carried his audience into a time and place I thought had been long since buried under the stress of the 90's rat-race. It was uniquely inspiring and I wondered, "what drives Gil Magno to create art in the way he creates it?"
GM: What drives me is a philosophy. It isn't just music nor art per se. My purpose in life is to show my students and people, in general, that they can do whatever they want and so contribute towards their personal freedom. Since I am a musician/teacher and have been since the beginning, it is what I use as a vehicle.
TV: How do you express this philosophy through music?
GM: It is a philosophy based on practicality, not on what I refer to as, "caca-poo" mentalities. It is about real stuff. Honesty is number one. Production would be second. And number three is happiness, because when everybody is producing there is self-esteem and therefore no desire to fight, bicker, or argue. Everyone is into their thing, producing stuff, and exchanging values in the marketplace. I am an artist, yes, but a practical one.
TV: How does this relate with your philosophy on personal freedom?
GM: Let's go back to number one, which is honesty. I'm not speaking in reference to getting short-changed at a store or something. What I mean is honesty within oneself. Are you being real? Are you observing what you are? Are you lying to yourself? Whatever words a person uses to talk to himself, he is responsible for. That is called mouth responsibility. We try as much as possible to integrate honesty within our lives. When a person does this, there grows a personal power that cannot be easily explained.
TV: This is interesting because what I am experiencing from you here is, in essence, unexplainable. The best way I could describe it is that there is a comfortable determination in your presence, a very relaxed intention. That's it -- relaxed intensity. Your intention is very clear and there is in fact no need to explain. It is comfortable and clear.
GM: It's simple honesty, and let us not forget happiness. It is every human's moral right to achieve happiness. You are everything! If you are honest you have 100% right to be totally happy, of course you have to work at it. Achieving happiness brings about mastership, which is, after all, the point of practicing anything. But integrated honesty is the starting point. Without it we have the self-destruction observable in a druggie society. Pragmatism has set in regardless of honest values and its lies are perpetuated by dishonest teachers and "authorities" who give false information in exchange for dishonest dollars. I have spent over 100,000.00 on seminars, research and lectures, and believe me, nobody knows the answers. Only YOU know what makes sense in your mind and feels good in your heart. All I know is I feel good producing.
TV: Would you say that honesty and happiness equal production?
GM: No, honesty and production equal happiness; or, like Mark Hamilton put it, which is interesting: Productive work plus value reflection equal happiness. For example, when I perform and get applause, that is value reflection from my audience, however, what Mark Hamilton was referring to by value reflection, is love -- romantic love -- another thing which is very aberrated in our lives today. You know, many people are dying and sick simply because they don't have romantic love. That is really a fact.
TV: So is this why you mainly gear towards the romantic types of music? Do you think that is what inspires you to inspire others to fulfill that particular need and bring about the "a + b =happiness" equation?
GM: In my new CD -- A Tapestry of Love -- I do songs like Janisse, one of my originals that expresses a much more exalted form of love; a sort of futuristic romantic bliss on other planets where romantic love is a continuous celebration -- oh, so different from South Beach night life. I sing love songs because one of my intentions is to bring back real romance. Real romance is one of the ingredients for attaining PERMANENT AND SATISFYING success in life.
TV: Yes. I would describe the sensation of romantic feelings like a "coming home again," like returning to the womb.
GM: Yes. You need romance, but not romance in the effect of silly giggly notions. I'm bringing romance back with the use of a modern tool called, "objectivity." When the objective or reasoning mind is creating mistakes it is simply because it is not based on honesty or truth. For example, this is how I believe in creating a relationship. Two people come together and say, "let us begin a relationship, you like me, I like you , fine! Let's begin a relationship," and they should actually discuss or write, step by step, how they are going to build that relationship, and believe me, that relationship will last. You have to use your rational mind -- objective romance. And it's not to take away from candlelight dinners and roses on Valentine's day. This is real love. It's just like constructing a beautiful building and it needs a strong foundation to stand on.
TV: Now with this philosophy and your inspiration, what are you creating now and aiming for in the future?
GM: My new CD, A TAPESTRY OF LOVE, was just released and is being accepted very well. Now I'm finishing a book I've been writing for the past 15 years called, DEVELOPING CONFIDENCE AND PERSONAL MAGNETISM. This will be the textbook for a seminar I will be starting soon. It will be invaluable for all types of performers, public speakers and people in general who want to succeed in life. It promulgates an objective and futuristic approach to the arts, and life in general which I believe will begin after the year 2000. We've had 2000 years of lies and people are beginning to suspect that they have been slaves of the "authorities" and "professors" who don't produce anything except for destroying the natural curiosity of youth. Troublesome young people are simply revolting against what they feel, rationally or intuitively, are lies of tradition. That's it! As soon as the people begin to not allow governments to interfere with their lives and/or control the producers with all kinds of difficulties and fines, in that moment life in general will become easy with prosperity for all. I believe this change will begin in 2001. The people then will begin to enjoy a life that until now hasn't existed, that is, -- with honesty, unhampered production, happiness, real love, prosperity and life extension. But I'm not doing what I'm doing to be good to everybody and to help the world. That's part of the trap and many organizations and individuals have done just that for centuries and nothing ever gets done. My only concern is this: You do things for yourself, totally rationally selfish. If you are honest you will see this in yourself. And if you do that you don't have to worry about helping the world. It's already done! Be happy! I'd say I'm like an ounce of radium, giving off of myself all the time because I can't help it. I'm having fun because my creations are based on honesty. I don't know why I was born. All I know is that I'm here and I'm producing and I dig that other people are digging what I produce, and that makes my happy. That's all there is to it.
TV: Who has been your biggest influence and what did you learn?
GM: One is a great physicist, Dr. Frank R. Wallace, from whom I learned various concepts and techniques. The other is a biocentric psychologist, Dr. Nathaniel Branden. Also the great Luciano Pavarotti, Andres Segovia and Pablo Casals -- the trinity of God in the arts. Most importantly, Joao J. DeJesus, my uncle, who was blind from the age of 2 1/2. He was just -- I don't know -- beautiful. I learned from him through osmosis. When I think of him I think of all the flowers and beautiful things on the Island of Madeira -- such a romantic place.
TV: So your exchange with the public is...
GM: It is the philosophy of honesty and objectivity we've been talking about -- not caca-poo, sweety-weetie, jelly-spined mores from never-never lands. It's the only thing I've seen to work and I do it through teaching and performing my art. I wasn't always this way. I started off in the anticivilization like all of us -- playing the games, kissing buttocks to be "discovered," acting like somebody else, trying to impress -- and then it just all changed when I started studying what people like Dr. Branden and Dr. Wallace were writing about. They helped me bring a great change in me and now I do the same with others through my teaching.