2-The Students I
The Gossip
Magno's CD
A Tapestry of Love
Listen to:
Alone
...
Soul Mate
Buy CD
This page is dedicated to all vocal students of Gil Magno who have actually created something - for themselves, for their communities and for the world.
It also contains the Gossip about Gil Magno.
Are you a producer looking for talent?
Are you a band looking for a singer?
Are you looking for entertainment for your function?
Look at the extraordinary artists below.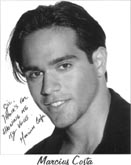 MARCIUS COSTA - Co-stared in "Popstar" with Xuxa (famous Brazilian actress/singer). Host for TNT Latin America Documentary, Tour in the Amazon, 6/02. Main actor for AADK campaign for Discovery Channel. Guest opening artist for Banda Eva. Recording artist. Graduate of the Magno Vocal Course #1......"I knew I could sing but I didn't know how far I could get with my voice. It's incredible how much you can improve with the right technique. Thanks Gil."
Listen to his original - Management - Leonardo Perez ...E-mail....E-mail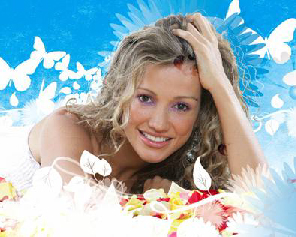 FANNY LU - "Colombia's best new artist and best album, Lagrimas Calidas" by National Music Awards. Her song, No Te Pido Flores was #1 in Miami for 4 weeks and first time in history on Ring Tones, and #1 in Billboard's Tropical List. Graduate of Magno Vocal Course #1. Presently on Magno Vocal Course #2......"...Gil has been a hand that has held me so tight that has made me believe in my abilities and myself. His lessons are not just technical but constitute a message for life. He's taught me how to use my voice but in the process he's also taught me the power of the soul and mind, he's made me discover and love the magnetism in me, which is exactly the same magnetism that has taken me so far in life. Discovering my voice, my abilities and my inner strength have been the legacy of his lessons in my life and what encourages me week after week, to keep up improving and absorbing the most from a real master of life, Gil Magno."............E-mail
ED HALE - Lead singer/songwriter with Transcendence, Modern Rock Band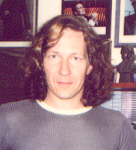 and recording artist for TMG Records. His 5th CD, Rise and Shine, came out November 14, 2001 - Graduate of Magno Vocal Courses #1 & #2. Presently on Course #3......"Working and studying with Gil Magno is working/connecting with an aligned soul -- no pretense, no compromise. He is connected to all highest ideals of man and this comes across in his teaching so you walk away from a lesson with him feeling as though you have come in contact with the highest and best in you. It is pure inspiration that lasts for many days after the lesson ends.
"

Listen to CD on left.

...

...

...


Email.......Transcendence Website.......Personal Website.....Synthesis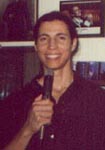 JORGE LUIS MOREJON - Teacher of movement and dramatic voice on the faculty of New World School of the Arts, Miami FL - Vocal Student of the Year 2002 - BA in Special Education/Dance from FIU - Actor in soaps, Guadalupe & Angelica Mi Vida - Graduate of Magno Courses #1 & #2, presently on Course #3......"A gift denied for a long time. Now I own my sound. I erect my soul with a flag of chords."...........Read his graduating poem on Page 5....E-mail...Jorge gave his debut recital on June 28, 02...Give a listen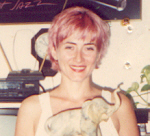 KIMONA "117" RYAN - Lead Singer of Suzie Cream Cheese Rock Band - Recording Artist - Miami, FL - Graduate of all Magno Courses - Began study in 11/3/95 through 7/6/98.
"Gil is truly a great teacher. The patience of a saint combined with a true desire to see his student excel, is something very rare to see and is much appreciated." .......(305) 947-3223.

MICHAEL McPHERSON - World Renown Magician, Recording Artist - Illusion & Acrobatics blend in the stage production of Vertigo-Physical Magic - Poet Productions, New Orleans - Graduate of Magno Vocal Course #1......"Being an entertainer is more about being in touch with yourself than anything else. You really have to know who you are before you can share yourself with the audience, which is what entertaining really is - Gil really has a firm grasp on this concept and the ability to teach it to others."
...

<---- Listen....... Website... Email

CATTERINA TASSO - Lead singer for the La Rock Band, Moxi. Their new CD, Moxi, has just tincome out. Written up in El Herald and voted Best Local Rock Band and Best Band Name by New Times, May 16, 2002. Cover story in Diario Las Americas, June 7, 2002. Graduate of Magno Vocal Courses #1, #2 & #3. 6/5/01 -- "I'm writting you because I want to say thanks for everything you taught me... I've been practicing every day this week because I am recording again with another producer and it's going excelent.... I'm always going to remember all your great advices and the way you look at life... I just want you to know that I'am very thankful for the knowlege that you have given us.... you are a great teacher!!!!!!!!


....E-mail....Website...Listen to her music

ATTILA MATYAS - President of The Hun Realty Co., Miami, FL. A self-made successful entrepreneur. Graduate of Magno's Personal Magnetism Course.... "The Magnetism Course is a must for every human being who wants to have a better life. The material is easy to understand, the exercises are short and right to the point...I have to attribute a lot to this Course for improving my life, as I am a different person than I was eight months before. The Course improved my voice, posture, better understanding of people, credibility and confidence. All these things helped me make more money in my work. I have a better life financially and spiritually...".......Email



GABRIEL SCHICHI - 13 years old - Graduate of Magno's Course #1 and #2. Attended New World School of the Arts Summer Camp for 2 years. Now applying for the University of Miami Music Summer Camp.
"Gabriel was a singing prodigy the second he started practicing in Gil Magno's workroom. He has perfomed at Magno seminars and has been in musical drama pieces throughout elementary and middle school. His talents will assist him in getting into New World School of the Arts in a year, when he'll start high school." Rebeca (mother)........E-mail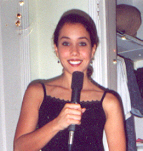 JESSICA PACHECO - Professional Flamenco Dancer - Miami, FL. Graduate of Magno's Course #1.

"Being that this was my first course in singing ever, I feel that I have accomplished very much. In only ten classes I feel confident enough to say that I will soon be able to call myself a singer.".......Website.......Email

MELISSA AXEL - Graduate of Berklee College of Music with a major inMusic Business/Management and studies in songwriting, music production,and performance. Graduate of Magno Vocal Course #1...."I have just completed Course #1 of the Voice Training Program taught by Gil Magno. The exercises taught in this course helped me to develop and strengthen my voice, perfect vocal techniques used in performance, and instill confidence and endurance in my vocal expression. The Magno system is a fast-working set of exercises and visualizations that quickly teach the singer to create desired sound for their vocal performance. It has been extremely rewarding to participate in this program and develop both personally and professionally as a singer."
E-mail.....Listen.....Website




MARQ WITHERS - Song Writer/Recording Artist and President of Astronome Recordings Ltd., - Miami, FL - Vocal Student of the Year 2000 - Graduate of all Magno Courses - Began study 12/26/97 through 9/7/01." ...Gil Magno is not only a gifted instructor who wants you to succeed as a singer, but also a good friend who wants to help improve your confidence and quality of overall living."
...Website.......Email......
.......

<---Listen


PAHOLA DUQUE - Singer/Songwriter. Just made the lead part for Sacha, a new play by Phillip Michael Thomas of Miami Vice. Recently interviewd at AOL Latin Entertainment & La Poderosa Radio Show. Graduate of Magno Vocal Courses #1, #2 & #3. Presently on Magno Course #4 on Professionalism and Personal Magnetism. Waiting for a Record Contract."Gil is not only a great teacher but he also shows sincere interest in helping in every aspect. I have learned many things from talking to him and listening to all he tells me. He has the experience and the knowledge. Taking this course has, with no doubt, bettered my self-esteem. I feel more confident when I sing because I know I am learning the right techniques. I am very grateful to have a teacher and a friend like you Gil. Thank you for listening to me when I needed it. "...E-mail...Give a listen

MICHELE PARIS - Songwriter/Recording Artist - Ft. Lauderdale, FL. Graduate of Magno's Vocal Course #1.
"Your clarity, vision and moral support, were very instrumental in helping me to finish a recording project that meant the world to me... my own CD."
...

Click on CD to listen....Website...Email

Genene Hirschhorn - Accepted by Berklee School of Music as Voice Major, Professional Program & Song Writing. Graduate of Magno's Course #1....5/31/00 -"My lessons with Gil have given me a structure to create my singing career from all angles. Not only did I learn exercises to strengthen my voice for performances, but I learned how to handle mental and spiritual issues as well as voice technique. I was given the opportunity to also perfect my repertoire of songs. My training with Gil gave me the confidence I needed to prepare for a successful performance of the National Anthem, at a professional hockey game in front of 3000 people. I am grateful to Gil for sharing with me not only vocal wisdom, but life wisdom.".....Website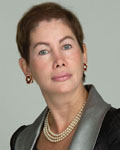 JULIA DREYFUS - Creator and president of Micro Corporation in Miami. A self-made entrepreneur. Has just donated a 600.00 scholarship to a worthy vocal student. Graduate of Magno Vocal Course #1.
"Magno is a very talented, patient and experienced teacher. He can go within us and bring out the potential and talent that was dormant. With his effective techniques, he can transform us intoartists. He is great.".....E-mail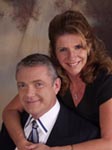 MARY LIGON C.ht. and DR. RICHARD MAULION MD - Creators of Success Co. Seminars, whose mission is to realize and actualize people's full potential on all areas of life. Graduates of Magno Vocal Course #1. Both presently on Course #2.
....."The lessons I've had with Gil have given me more confidence in my stage presence and vocal skills, while introducing me to the joy of discovering my singing voice and the joy that music brings to the soul."......E-mail

JOE BARRI - First dancer in video with Ricky Martin & Willy Chirino - Model in TV commercials - Graduate of Magno Vocal Courses #1, #2 & #3. Studied from 12/21/98 through 8/23/01.
"....I have always believed in me without a doubt. But I must say that meeting you, Gil, was honestly wonderful. Your experience helped me to get stronger, not only in my voice, but all aspects of my life. You're great! Thanks for sharing your knowledge with me and being sincere with me as well. Love and peace."....E-mail

JOHNATHAN NARANJO - Just signed a record deal - Will open Oscar De Leon concert in August at Bongo's Cuban Cafe in Bayside, Miami. Presently on Magno Vocal Course #1...."Apart from being a great instructor, he has not just motivated me, but has shown me how to be comfortable with each and every note, and always motivating me to do better and to be very disciplined. I've learned how to breathe properly and his exercises have given me more than what I could imagine. I hope everyone could go through this course. It will make you a success in anything you do."....E-mail


ANDRE LOPES - Bassist/singer for Bacilos Latin Pop Band - Winner of Grammy 2003 for Best Latin Pop Album - Opening for Alexandro Sanz at Greek Theatre LA, Radio City Music Hall NY & James L. Knight Center, Miami. Presently on Magno Vocal Course #1.
"Now I'm starting to understand how my voice works. Technique and right practice bring immediate improvements."


<---Listen....Website.....Management

TANIA "Lady Bug" VELASQUEZ L.M.T., D.C.H, Song writer, recording artist. Voted best rock vocalist 2001, by Miami New Times. Her CD, Plug Me In, just came out. Graduate of Magno's Vocal Courses #1, 2 & 3. Studied from 8/19/96 through 3/10/98...."Gil Magno is a truly remarkable teacher. His course is an effective, unique and mind-expansive journey. I have not only learned to express with my voice, but have been given the techniques to express with my entire being, using fresh insights and tools I will carry into every area of my life."


Hear it....Website


RAUL RAMIREZ - Made the Florida Philharmonic Chorus - Berklee School of Music Diploma in Music Production & Engineering - BS in Chemistry from Georgia Tech - Former bassist & drummer for Moxi and Sofia Latin rock Bands. Singer/songwriter that plays all instruments on CD, engineered & produced it. Graduate of Magno Course #1& #2. Presently on Course #3..."Thanks to Gil and his method I was able to get in touch with my singer within. Step by step he has taught me about the attributes of becoming a professional singer: The physical, (how my voice works), the technical, (how to practice it and develop it), and the mental, (how to believe in my voice)"


Click on CD to listen.......Website...E-mail
TINA LEIU - Actress/Singer - Starring in HBO TV Series, Hotel Erotica, Airing in Fall 2003 - Guest Singer at House of Blues, LA - Filming movie in Miami in Fall - Graduate of Magno Vocal Courses #1, #2 & #3
"Thank you Gil for all your help and awesome coaching."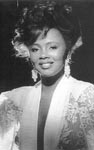 YVONE CHRISTIANA - Singer/Actress - Featured singer with The Shirelles in USA tour - Lead actress in, Excuse Moi & Second Time Around theatrical productions - Co-star in film Night Orchid & many others. Presently on the Magno Vocal Courses #1, 2 & 3....E-mail


MICHAEL F. CANCIGLIA -Made the Florida Philharmonic Chorus -Musician/Educator - Primary Instrument, Drumset - Performing in a variety of areas of music for over 20 years - Presently Teaching in North Miami Beach at Northeast Academy Elementary school. Graduate of the Magno Vocal Course #1, #2 & #3 - Now on Course #5 - Self Transformation through Personal Magnetism.
"As a Professional Musician for twenty years I was always an instrumentalist. When I began teaching I found that the voice is really one of the key elements in learning and teaching music. Since I never really had much training using my voice I decided to look for a teacher. I discovered Gil Magno on line surfing the web. Gil is very organized in his approach to teaching and developing the person behind the voice. I just completed my first course and decided to audition for the FL Philharmonic chorus. I was accepted and I will be performing with them this year. Thanks Gil!"...E-mail

CANDY COLLINS - Made the Florida Philharmonic Chorus. Mezzo-soprano with a professional pop/classical voice. Graduate of all Magno Vocal Courses. Studied from 11/90 through 8/02. Available for engagements...."Gil is a wonderful teacher and wise man. He is extremely motivated and passes that positive energy to his students. I have enjoyed studying with Gil and have learned many things about singing, performing and life in general. The principles I have learned from him will help me throughout my life. I know that my success thus far has been possible, in large part, because of Gil's enthusiasm, knowledge, and help." E-mail


The Media Gossip
"Hi Gil: I am writting you to let you know that Marcius already moved back to Brazil. I'd like to thank you for everything you've done to help Marcius improve. I know if he keeps worknig hard he'll get there. We never forgot the story you told us on the first day of class about the guy who wanted to know the key to success. Now it's our turn, we are going to do everything possible to make our dream come true. We'd like to thank you not only for the great classes you taught him, but also for all the support you always gave us. I will let you know all the steps we are taking. Sincerely, Leo Perez - Manager/Producer of Marcius Costa - The next singing sensation in Brazil
"Dear Gil: Congratulations on the wonderful work you are doing with your students. You are a blessing helping them with their careers. Keep up the good work. Kindest personal regards."
.......Melvin Powers - Publisher & Self-Empowerment speaker. Wilshire Book Co.
"For those who enjoy... Continental music, Gil is to be somewhat of a new experience."
.......Patrick O'neil, Boston Globe
"As a composer, you have shown your knowledge of composition, following the rules of sequences, in their rise and fall back to the main theme. This principle was followed by all the composers from Monteverdi to the present day... your taste of the Spanish and Portuguese melodic line are real. All this came from the Neapolitan school of composition... I recommend for everyone to listen to your Tapestry of Love. This CD contains all I have said about composition."
.......Maestro Attilio Poto, former conductor of the Boston Conservatory Orchestra.
"When rippling among the nylon strings of a classical guitar, those fingers speak eloquently as Hamlet in full spate."
.......Bill Nailen, Birmingham News
"Warrior High School Band; Director Gil DeJesus Magno, talk of town."
.......Walton Lowry, Birmingham News
"The guitar has come to Birmingham. Gil DeJesus Magno is a most serious pupil-teacher of the guitar."
.......Sincerely, Charlie Byrd.
"His playing and singing is beyond my praise. Just magnificent!
.......Henri Jobert, South Shore (MA) News
"He not only plays the guitar well but Mr. DeJesus Magno is also a capable folksinger."
.......Joseph Ceo, Providence Journal, RI
"Just drop in at the Rose Cabaret... when Gil DeJesus Magno is playing Villa Lobos Prelude #1 -- you couldn't ask for a more attentive audience."
.......Robert Gustafson, Boston Globe
"My Flamenco teacher, Gil DeJesus Magno, also a perfectionist, has given a lifetime to the study and practice of the guitar."
.......Henri Jobert, South Shore News, MA
"On those numbers where DeJesus Magno sings, his voice is fine and true to tone..."
.......Patrick E. O'Neil, Boston Globe
"Thanks so much for your help at the Freedom Folk Festival."
.......Boston CORE, Bill Field
"Gil De Magno worked for us for about ten years and always did an excellent job."
.......Ruby Newman Orchestras, Bill Kroner
"His voice was dignified, powerful yet gentle, focused on emotion.
.......Tania Velasquez, Movement Magazine, FL
"...he would advise, 'You must become a mirror that expresses the true character and message of the music. Your playing must become eloquent."
.......Raymond Poissant, Boston Guitar Society News
"...couldn't help but be enthralled by the way he carried his audience into a time and place I thought had been long since buried under the stress of the 90's rat race."
.......Tania Velasquez, Rag Magazine, FL
"Dear Gil, you do a tremendous amount to support people's creativity. May all your fondest dreams come true."
.......Jim Leonard, Author of Vivation -- The Science of Enjoying All of Your Life.
"I am indeed proud of you and your outstanding band for receiving a Rating 1 Superior, at the All-State Band and Choral Competition Festival held at the University of Alabama..."
.......Vernon Skoog, Supervisor of Music, Birmingham Board of Education.
"We are distressed that you will not be able to continue teaching guitar lessons in Tuscaloosa..."
.......James H. Newman, Executive Vice President, University of Alabama.
"We here at WBRC-TV want to thank you and your fine band for the excellent music last Saturday..."
.......Eric N. Harris Jr., Promotion Manager, WBRC-TV, Birmingham, AL.
"We are very grateful to you for your cooperation as a judge for the Rosamond W. Lemaire Woodwind Prize last Monday evening..."
.......Arlan R. Coolidge, Dept. of Music, Brown University, Providence, RI
Personal Empowerment Suggestions will be FOUND IN SECTION II